The rustic gluten slippers are soft and fragrant rolls, Gluten-free and pleasantly rustic flavor.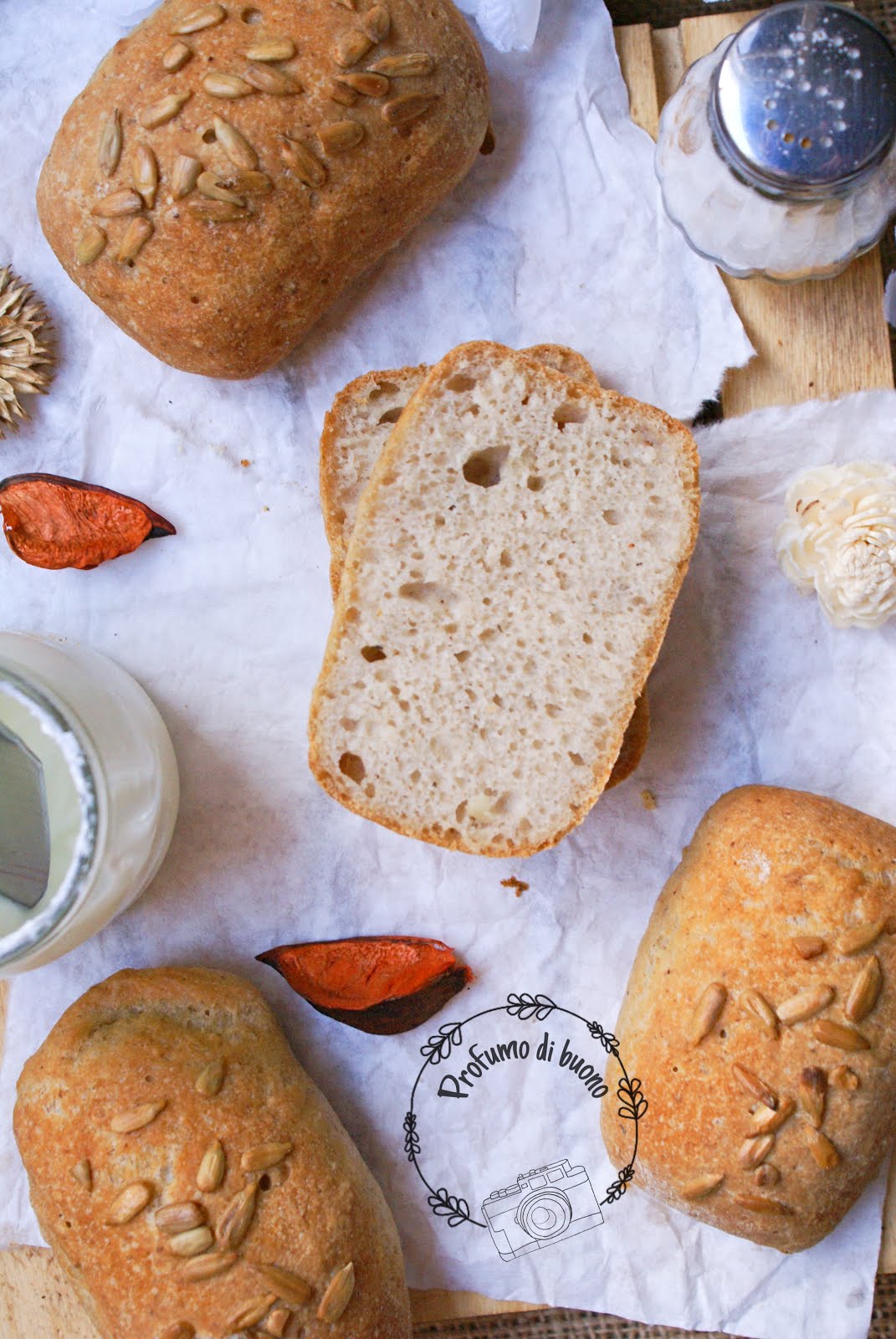 Questi piccoli panini morbidissimi sono ideali per accompagnare una cena leggera, per raccogliere il sugo dal piatto della domenica, per essere farciti con un velo di crema di nocciole quando un'improvvisa voglia di dolcezza chiama ed è già arrivata l'ora dello spuntino pomeridiano.
Le ciabattine rustiche senza glutine sono semplicissime da realizzare, e uniscono la morbidezza della mollica all'aroma rustico delle farine integrali.
You will need:
210g in farina Mix B Schar
40

g di farina mix it rustico Schar

30g of brown rice flour
20g buckwheat flour
300ml of water
9g of fresh yeast
Two tablespoons oil
A teaspoon of honey
A teaspoon of salt

Una manciata di semi di girasole
We prepare € ™ s mix of rustic slippers gluten in the bread machine!
Pour all the ingredients, to the exclusion of salt, in the drum of the bread machineZeroGlu. Start the program 2, shaped sandwiches, and add the salt after a few minutes of mixing.
At the signal of the machine (10 beep) press and hold the Menu button to stop the program and turn off machine.
Pour the mixture on a floured work surface to prevent sticking, and € ™ s help of a rolling pin, Ancha € ™ it dusted with flour, Gently flatten € ™ s dough to form a rectangle.
With € ™ s Use a knife or pizza cutter, divide the rectangle into eight smaller portions and transfer them, taking care to space them between their, on a baking tray lined with parchment paper just floured. Moisten with € ™ s water the surface of each slipper, spread sunflower seeds, pressing gently to make them adhere.
Coprite con la pellicola per alimenti leggermente unta e lasciate riposare ancora 15/30 minuti mentre portate il forno a 200°.
Quando il forno è caldo, rimuovete la pellicola e pennellate ogni panino con un'emulsione di acqua e olio, then bake and simmer for about 25/30 minuti o comunque fino a doratura.
Some indications
Non avrete alcuna difficoltà a realizzare le vostre ciabattine senza la macchina del pane

,

che in questo caso ho utilizzato per comodità come impastatrice e camera di lievitazione

.

Sarà sufficiente impastare tutti gli ingredienti insieme

, taking care to add salt at last,

e lasciar lievitare l'impasto per un paio d'ore prima di procedere alla formatura come indicato sopra

.
If you prefer a more delicate flavor,

potete sostituire il mix it rustico Schar con altrettanto mix B

,

riducendo l'acqua a 240ml.