These soft delicious gluten free vegan baked donuts have a lovely flavor and a soft texture thanks to the use of buttermilk, made here with vegan alternatives to dairy products, which make them suitable for lactose intolerant and also for vegans. The original is here made gluten free for all my fellow celiacs.
Gluten free & vegan? Yes, please! Maybe you don't eat dairy 'cause it doens't go well with your tummy, maybe you are allergic to eggs, or maybe you are vegan for ethical or enviromental reasons. It's okay, I've got you covered! These baked donuts are incredibly delicious and moist and they happen to be gluten free and vegan too!
You will need: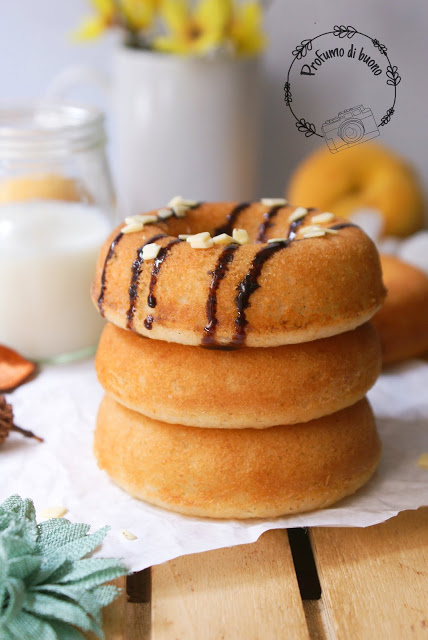 150g of gluten free all purpose flour
6g of baking powder
100g of sugar
125

g of soy yogurt or you favourite yogurt

50

g of soy milk

50g of sunflower oil
The juice of half a lemon

The zest of a lemon

A teaspoon of vanilla extract
Mix the milk, yogurt and lemon juice. Cover with plastic wrap and leave to rest in the fridge for twenty minutes. Then add the sugar, oil and vanilla extract.
Mix all dry ingredients and add them to the buttermilk. Whisk to combine.
Transfer the mixture into a buttered ad floured mini donuts pan and bake in a preheated oven at 180° for about 15/20 minutes.