Albums by consuming? Here is a collection of recipes with egg whites, gluten free, to prepare something good…without waste!
I do not know about you, but periodically I find myself with one or two egg whites at home without knowing what to do. What they are advanced by the preparation of a
brioche
, of the
pastry
, of the
custard
or a tasty dish of spaghetti carbonara, the white of the egg simply asks to be redeployed into something appetizing it can to compete with dishes made with his brother
sparkly
.
Before you browse through the recipes and put the stove, però, I want to share with you some tricks to beat the egg whites
perfectly
and realize so fabulous desserts! I discussed more thoroughly in my ebook (that you can
download
), but here are the things to which you should pay attention:
And now.. we come to the recipes with egg whites gluten! Scroll to the bottom if you are also interested in some salty recipe!
Cakes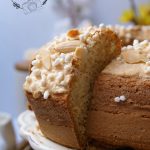 A sweet way to recycle some advanced egg white and to prepare an original dessert of almond flavor.
Keep it going
Sweet ideal to be prepared to dispose advanced whites. Morbidissima e leggera!
Keep it going
Una torta della tradizione statunitense, leggerissima perché si realizza con soli albumi d'uovo!
Keep it going
Un dolce tipico degli Stati Uniti, un ciambellone sofficissimo ma senza glutine e in versione… mini!
Keep it going