This Gluten free focaccia with tomatoes is incredibly fragrant and delicious! So airy and light, crunchy on the outside and soft on the inside.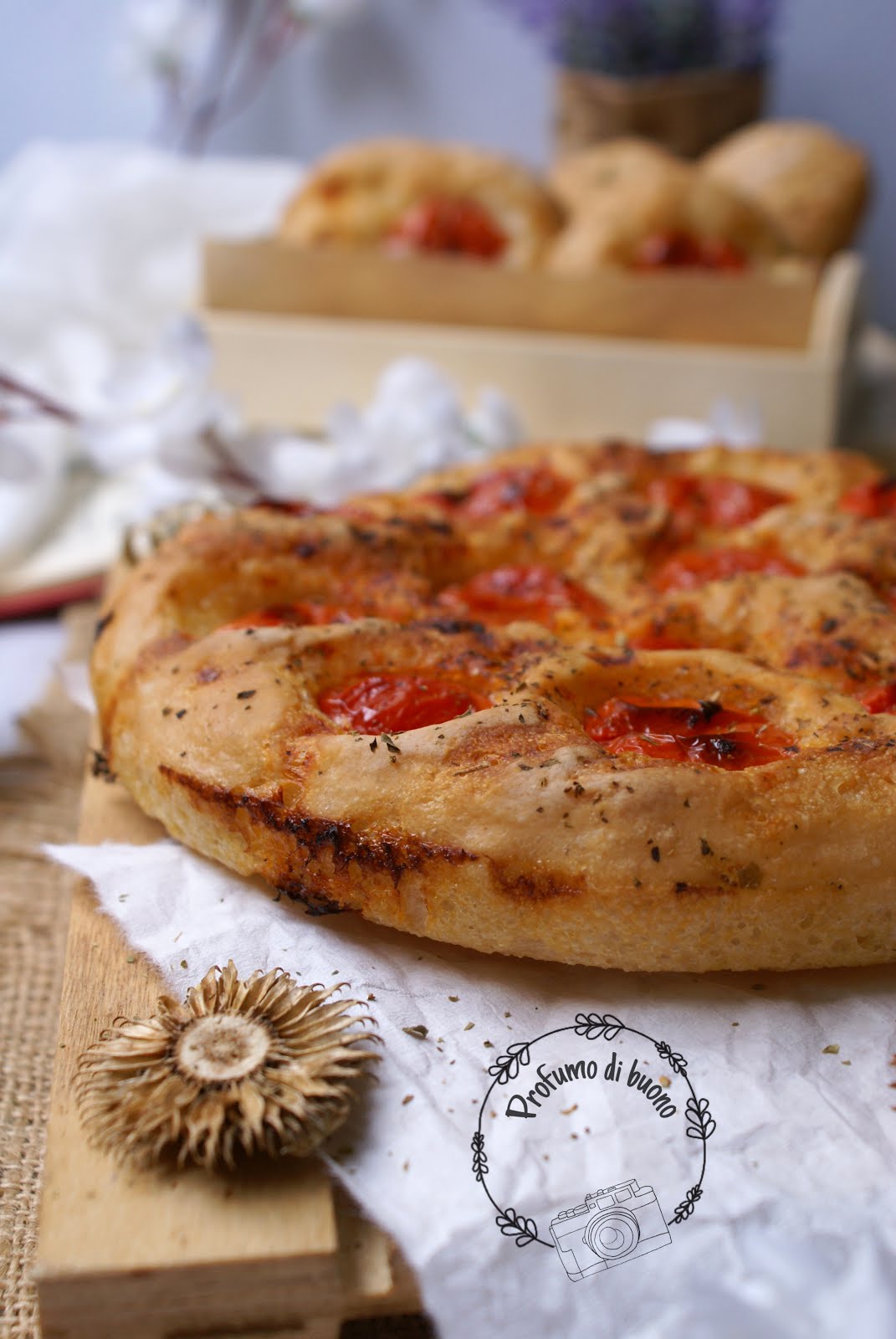 Easy to bake, this gluten free focaccia with tomatoes is a very simple, basic, dough perfect for baking focaccia or little "pizzette" or "focaccine" as we are used to say. Little knobs of pizza dough which we munch as a snack of at lunch time when we are in a hurry. The recipe calls for a peculiar gluten free Italian flour blend that you can buy in Italy or on Amazon.
You will need:
300

g of gluten free Fioreglut Caputo flour

280ml of water
9g of fresh yeast
A tsp of sugar
A tsp of salt
15g of olive oil
Let's make the dough for our gluten free focaccia with tomatoes

!

Dissolve the yeast and sugar in a part of the water, then pour the flour, water and baking powder into a bowl and knead until the mixture is lump-free. Finally add the oil and salt. Let it rest for a couple of hours or until doubled.

Take a part of the dough and roll it out on an oiled 20cm baking tin. Season with tomatoes, oregano and a few grains of coarse salt, then pour a little olive oil on the surface.

Line a baking tray with parchment paper and pour a little olive oil. With lightly dampened hands, take little balls of dough and mash them lightly with your fingers. Place them on the baking paper and season to taste. I used cherry tomatoes, olives, rosemary and sesame seeds. Pour another drop of oil on the surface.

Let the focaccia and the focaccine rest covered with a clean dish. Meanwhile turn on the oven to 220°C. When the oven is at temperature, bake for about 30/35 minutes or until golden brown.