Gluten free baked mediterranean frittata is a very light, vegetarian and high protein meal which is also perfectly packable for school lunch.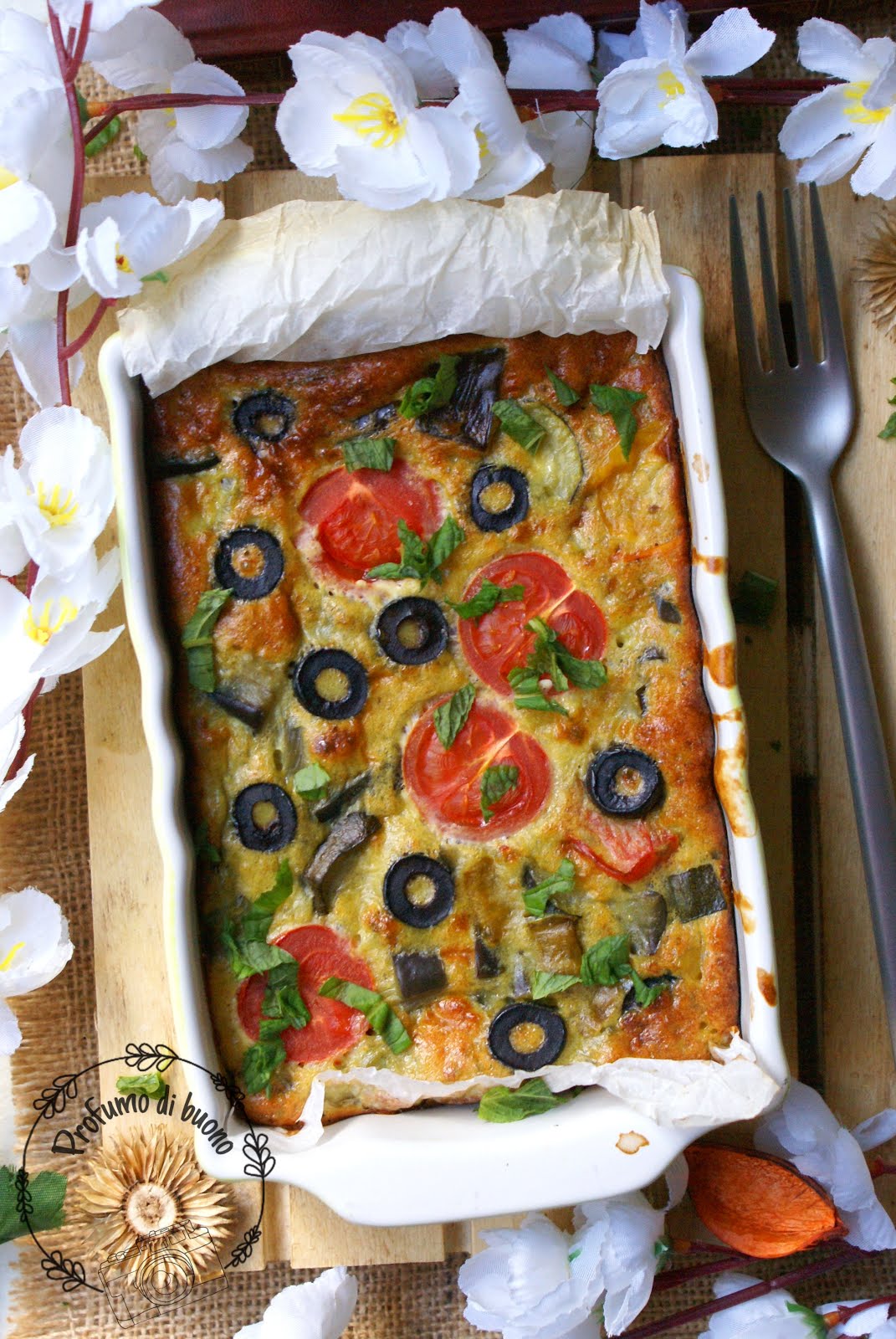 It is prepared in a short time, and is ideal for using in a dish some veggies you prepared perhaps for a side dish.
I'm telling you the truth: this gluten free baked mediterranean frittata is so fresh and tasty that I often prepare my pan full of veggies specifically, just to make it and to serve it at table, with all its colors, in a lunch with friends.
You can enjoy it warm or even cold, which makes it an excellent lunch to prepare in advance and to take with you to work or on a trip out of town.
You will need:
6 eggs
250g of cream cheese (

but also ricotta or quark cheese will work just as well

)

An eggplant

A red bell pepper and a green one
One zucchini
An onion
Two potatoes
A handful of cherry tomateos
Some black olives
Grated parmesan cheese to taste
Salt and pepper to taste
A tbsp of cornstarch
A tsp of baking soda
A few mint leaves
In a pan, sautée the sliced onion with a drizzle of extra virgin olive oil. Add the vegetables cut into small cubes. Finally, add the potatoes too. Cook until they are soft but still have a crunch to them, adding a little water if necessary. Salt to taste and leave to cool, then drain from excess liquid.
Beat the eggs lightly together with the cream cheese, then add the cornstarch, parmesan and baking soda and mix.
Gently incorporate the well-drained vegetables and transfer the mixture to a pan lined with slightly wet and squeezed parchment paper: you should get an omelette with a diameter of 24 cm which will come out not too thin buit quite soft and moist on the inside.
Spread some tomatoes icut in half and olives on the surface. Bake your gluten free baked mediterranean frittatain a preheated oven at 180°C for about 25/30 minutes or until the frittata is firm and golden. Serve with a few coarsely chopped mint leaves.