This post is also available in:

Italiano (Italian)
Omg! This gluten free chocolate cookies are absolutely scrumptious! So delicious and rich, they are just so delicious you won't tell they're gluten free.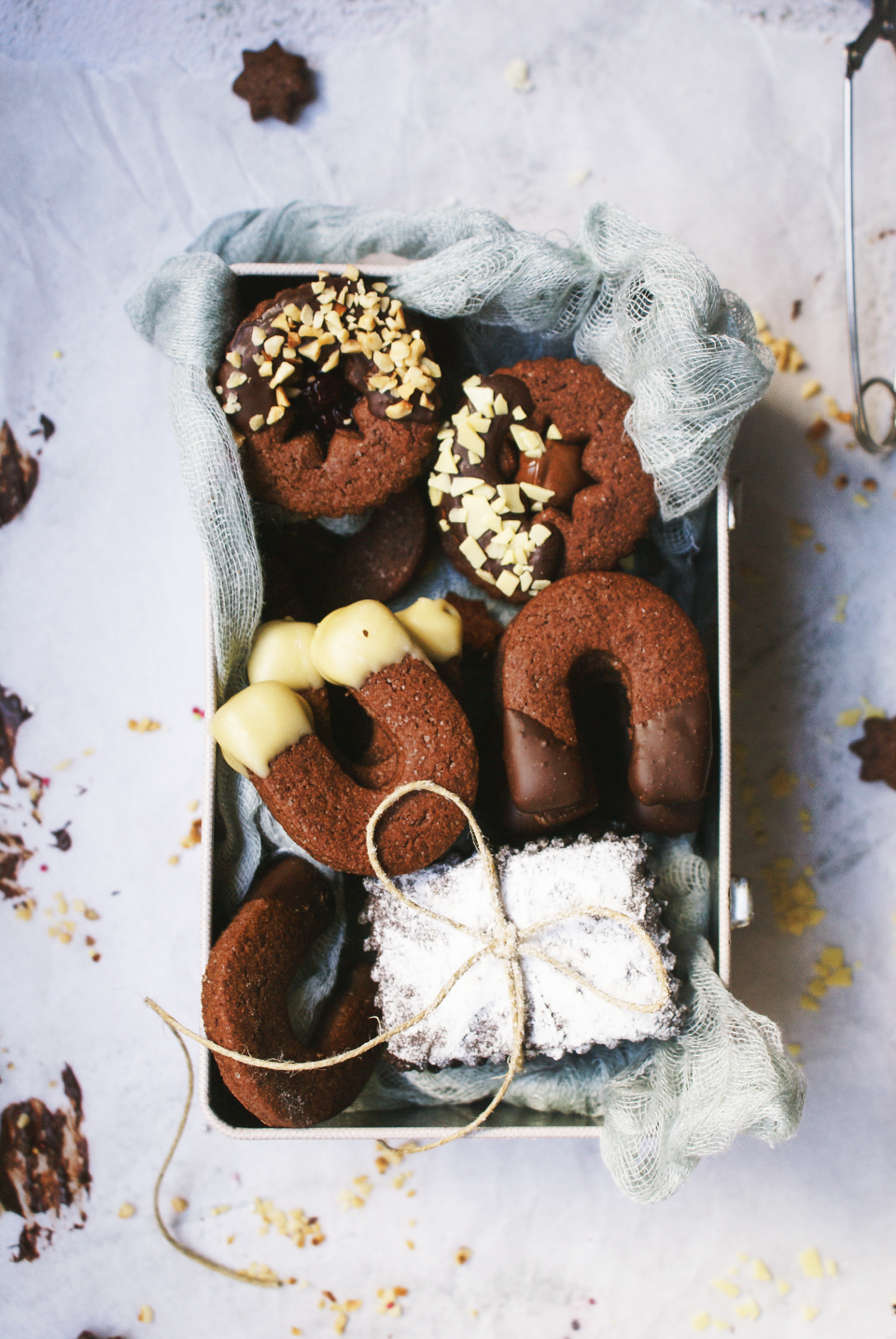 Tell me, wouldn't you like to receive a box of these cookies as a gift? My family and friends were more than happy to get that as a gift. Someone even ventured to claim that their intense cocoa flavor resembled that of a famous store-bought cookie that here in Italy you can find literally everywhere. And baking them, I assure you, is really simpler than you might think! The cocoa flavoured dough is ready in ten minutes, it is very easy to work with. The most difficult part? Waiting for your gluten free chocolate cookies to cool down before you can taste one in the most classic way: with a nice glass of hot milk!
You will need:
125g of rice flour
75g of potato starch
25g of cornstarch
25g of cocoa powder
1/4 a tsp of xanthan gum
1/4 a tsp of baking powder (optional)
120g of sugar
100g of butter
1 egg
A tsp of vanilla extraact
Let's make the dough
Cream together the butter, sugar and vanilla extract. Then add the flours mixed together with the xanthan and baking powder. Baking powder is not strictly indispensable, and indeed it is not expressly asked for in the traditional shortcrust pastry recipe. If you add it, however, your cookies will be a little softer and will puff slightly while baking. Consider that you may also lose a little in the level of detail of the shapes that you will give to your cookies.
Also add well-sifted cocoa (it's really important to avoid lumps in the pastry!). Pour the beaten egg and continue to knead until you get a smooth dough, then wrap it in plastic wrap and let it rest in the refrigerator for at least half an hour. Yes, I know: how boring! But trust me, it will be worth it. The pastry will be much easier to work with and the consistency of the baked biscuits will be better.
Let's bake our gluten free chocolate cookies!
Do you remember when I suggested you to always sprinkle your work surface with rice flour before you start rolling out the cookie dough? Well, in this case the advice is not valid. Yes, because when you are working a cocoa flavoured dough, as in this case, sprinkling the top with rice flour will make the color of the pastry less bright. That's why I suggest to sprinkle a little cocoa powder on the surface (always well sieved). Do the same with a rolling pin too.
Roll out the pastry not too thin and make the cookies you like best.
Transfer the cookies to a baking tray lined with parchment paper and bake in a preheated oven at 180 degrees for about 8-10 minutes.
And now: let's decorate!
When the cookies have cooled completely, you can decorate them as you like. To make your gluten free cookies even more delicious and irresistible, you can dip them in dark or white chocolate. You can melt the chocolate in a bain marie or even in the microwave, at intervals of about 25-30 seconds, always mixing between one and the other. Melting white chocolate, however, is always tricky. In order not to burn it, reduce the interval to 15-20 seconds and always choose a high quality chocolate.
When the decorations are dry you can prepare your package. These gluten free chocolate cookies stay fragrant for days, even a few weeks when they are not decorated, if well preserved. My advice is to close them in a tin box. I am sure, however, that you will not last so long!

---