This post is also available in:

Italiano (Italian)
Gluten free hot chocolate is a creamy, thick and delicious sweet treat to enjoy on a cold winter evening. Or ideal as a gift idea as well!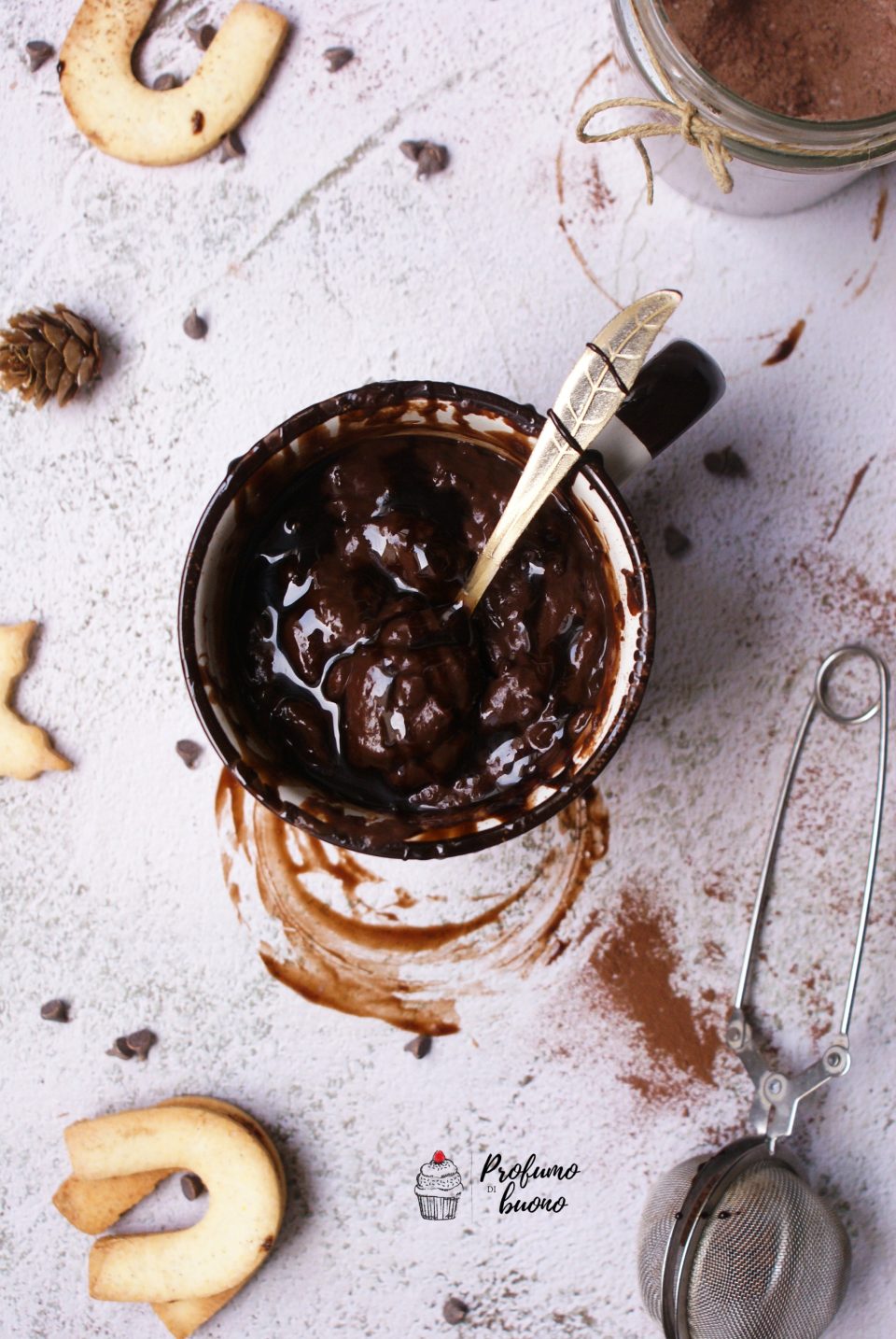 Imagine a December evening. An evening when the rain pours incessantly beating on the windows, in which the pungent air freezes your hands and the tip of your nose. You come back home after an exhausting day, soaked boots and cold-weathered skin. You sit in the warmth of the fireplace, listen to the milk muttering gently on the stove and perceive the aroma of cocoa spreading in the kitchen.
The jar is already waiting for you in the pantry! In an evening like this, it is convenient to have it there, ready to taste.
You will need:
60g of potato starch
60g of cocoa powder
70g of sugar (or less, depending on your taste)
A tsp of chocolate chips (optional)
Mix all the ingredients in a jar and keep it in a well-closed pantry. Or pack a gift to give to your friends!
When you want to enjoy a cup of hot chocolate, all you have to do is …
Let's make our gluten free hot chocolate!
A tbsp of hot chocolate mix
125ml of milk (non-dairy works as well)
Half a tsp of vanilla extract
With these doses you will get hot chocolate in the ideal quantity to fill a cappuccino cup. If you prefer, you can increase or reduce the dose according to your taste.
Heat the milk in a saucepan, then pour the hot choc mix, sieved to avoid lumps. Stir constantly until you get a thick and creamy consistency according to your taste. Enjoy warm, garnishing with melted chocolate, whipped cream or together with some delicious cinnamon biscuit.
Go and make your favorite hot chocolate!
You can flavor your hot chocolate as you prefer: orange zest, a pinch of cinnamon, or a spalsh of rum. Unleash your imagination!
Prefer a bitter cocoa of excellent quality, for an intense and round taste.
Adjust the amount of sugar and the ratio of milk to dry ingredients according to your taste. Do you prefer the milk-y and light American-style hot chocolate, or a thick Italian-style chocolate?