This post is also available in:

Italiano (Italian)
Omg! This gluten free pizza is absolutely scrumptious! So incredibly delicious with its crunchy crust and its creamy velvety tomato sauce on top!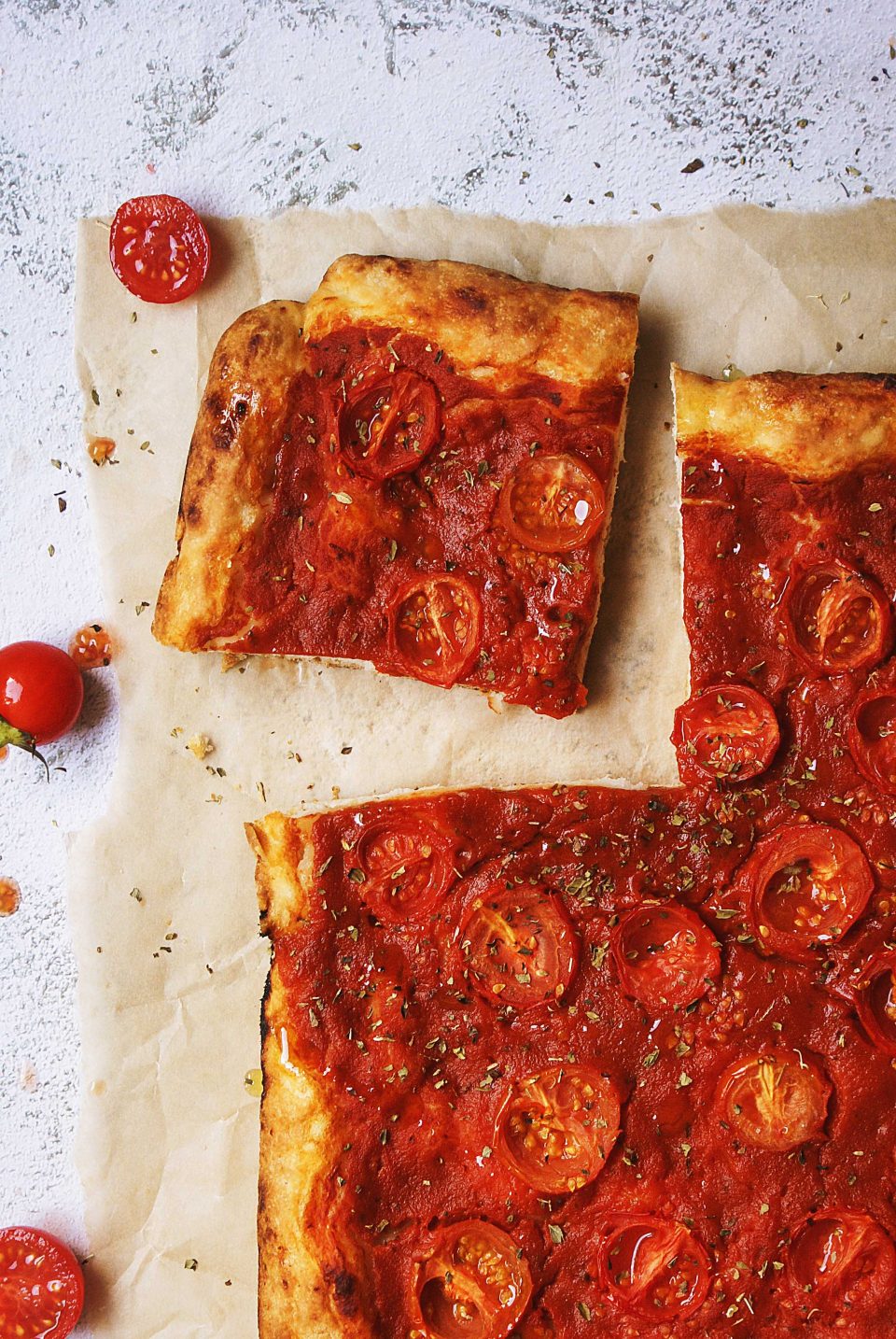 I don't know about you guys but I, as a very average Italian girl, am in fact very fond of pizza and I take it quite seriously. Well, this recipe for gluten free pizza is definitely my favourite. The crust is super crunchy on the outside, flavourful thanks to a generous amount of olive oil. The crumb is soft and yet not at all gummy. If you can't afford a ticket to Italy this summer, consider baking this adorable little one instead. You will get a taste of Italy just as well.
You will need: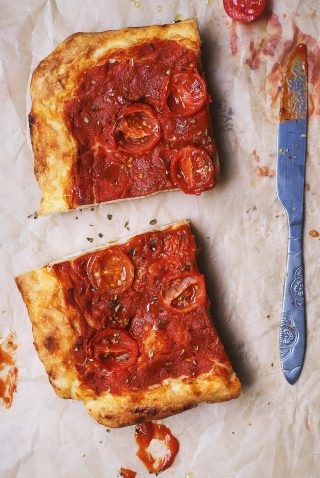 300g of gluten free Schar's bread mix
280ml of lukewarm water
9g of fresh yeast (or 3-4g of dried yeast)
20g of olive oil
A tsp of salt
1/2 tsp of sugar
Dissolve the yeast in a part of the water together with the sugar. Then, in a stand mixer pour the flour, yeast, water and oil and start kneading. Let the whips work until the dough is smooth, soft and lump free. Add the salt.
If you can, use a stand mixer, but the dough is not particularly difficult even to keand by hand. Just take care to keep your hands always a little wet and wash them as soon as you see the dough is sticking to your fingers. This is the secret: do not let the dough accumulate on your fingers and you will have no problem keading it by hand.
Leave the dough to rest in a warm place for about an hour and a half. When the leavening time is over, get a pan, a bottle of olive oil and a small bowl full of water. Why? I'll explain it right away.
Spread a little oil evenly over the bottom of the pan. Come on, this is not the time to cut your seasonings. After all, it's pizza, not a salad! The pan must be well greased so that your pizza does not stick all the way to the bottom. Dip your hands in the bowl of water, shake them to remove the excess and then take the dough. Spread it evenly on the bottom of the pan and wet your hands again whenever the dough seems more difficult to work with or stickier. Just be patient.
Cover the pan with a cloth and let the gluten free pizza dough rest for about 30-40 minutes. In the meantime, preheat the oven and bring it to the highest possible temperature. I usually program it to reach 464 °F.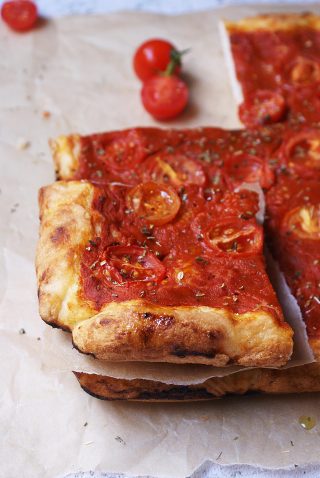 Let's get saucy!
Well, the best moment has finally come. At this point, you can be creatibe and season the pizza as you like. In the throes of nostalgia I wanted to recreate what we called "pizza salsata" and I kept it simple (but that's oh so tasty!). Cook your tomato passata over medium heat with a little thinly sliced onion, a glob of olive oil and a generous amount of dried oregano. Stir it from time to time. It will take abount an hour to get a very tasty and slightly thick marinara pizza sauce.
Spread your marinara sauce on the pizza but leave a little bit of space from the sides. I bet you are wondering how to make those golden and crispy edges. So easy! That's the trick: get some some on the back of a spoon and make quick irregular strips, here and there, along the edges of your pizza. Then, pour two tablespoons of water and a teaspoon of oil into a glass and mix energetically. Brush the edges of the pizza with this concoction. Don't be tight . I repeat: this is not the time to think about wether or not you will fit into that gorgeous over-priced bikini you bought.
Pour a drizzle of oil on top of the sauce. Now, you're ready to bake. This gluten free pizza bakes for about 20/25 minutes but a lot depends on your oven. Keep an eye on it: when the edges begin to turn golden, it's time to pay attention. Check with a spatula that the bottom of the pizza is well cooked and remove it from the oven when you have reached the desired level of browning.
If you want to add some mozzarella cheese or other toppings to your pizza, you can do it when the edges are just golden so as to bake it again just enough time to see the cheese melt wonderfully on the tomato sauce. Now I'm hungry again.

---