This post is also available in:

Italiano (Italian)
The scent of these cookies is so incredibly delicious. These cornmeal Gluten free raisins cookies are nice and sweet. Perfect with your cup of tea.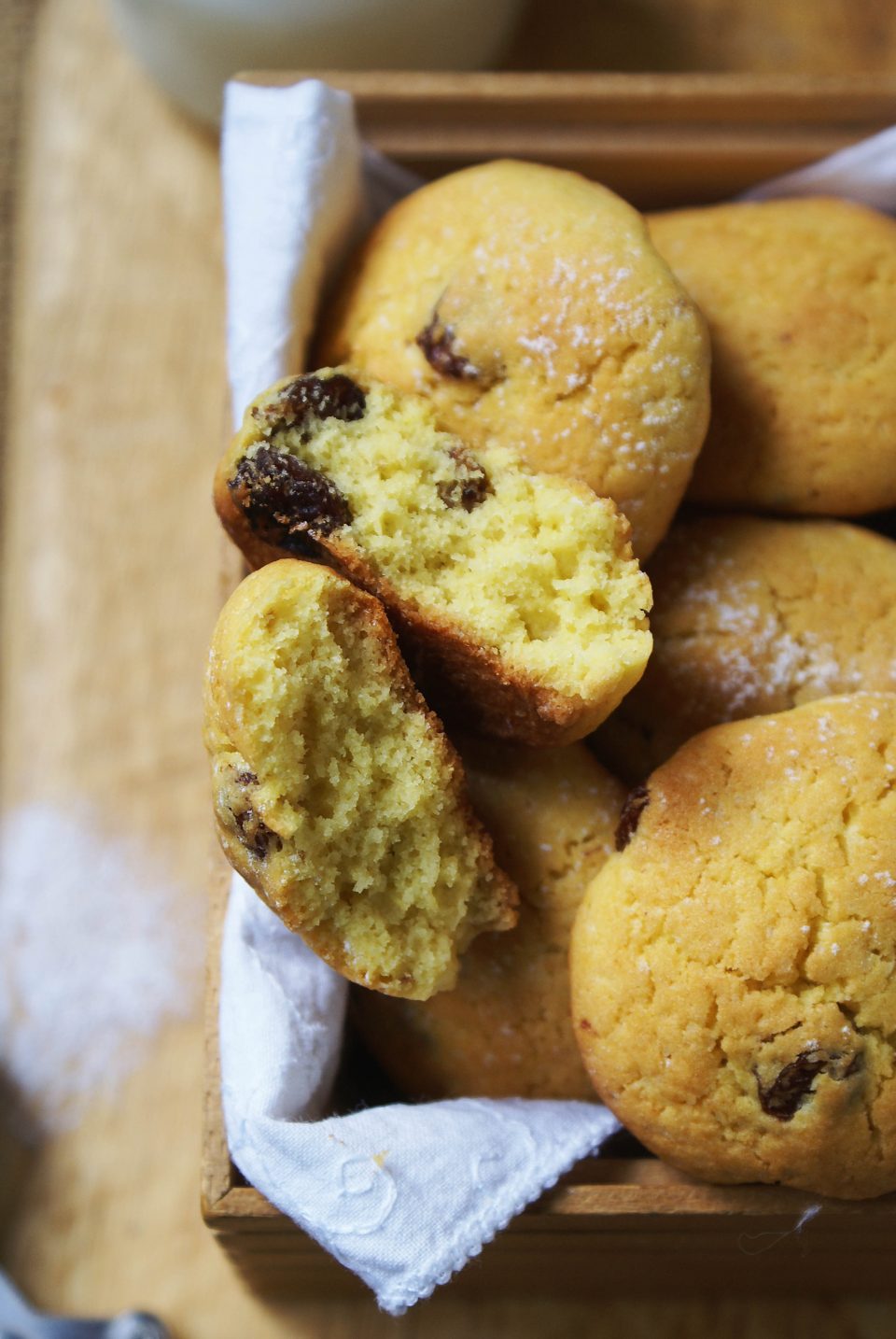 A cup of tea, a slice of lemon and a couple of these gluten free raisins cookies. The perfect snack. The delicate texture of these raisin cookies makes them perfect for dipping in tea or coffee. They are so soft that they melt in your mouth!
The bright color brings you joy, doesn't it? All thanks to cornmeal, which gives these cookies a special, crumbly and delicate consistency. The naturally sweet taste goes very well with the pungent smell of raisins and the unmistakable note of rum. And then they are also suitable for celiacs, because they are made with only rice and corn flour.
Now, all you have to do is give them a try.
You will need:
50g of soft butter
60g of sugar
One whole egg and one egg yolk

80g of rice flour

70g of cornmeal
A tsp of baking powder

A tsp of vanilla extract

2 tbsp of raisins

A splash of rum
Cream together the butter and sugar with a fork until you get a thick cream. Then, also add the whole egg and yolk and mix to combine.
When the eggs are perfectly absorbed you can start adding the flour, a little bit at a time. Do not combine the powders all together, but add them slowly, always checking the consistency of your dough. In fact, the dough must be soft and only slightly sticky, but still workable between the palms of the hands. At this point you can also combine the baking powder and vanilla extract. Place the dough in the refrigerator for about 15/20 minutes.
In the meantime, go and get your raisins perfectly soft. This way, it won't spoil the velvety texture of your cookies. Pour the rum into a glass, dip the raisins and add water to cover. Stir and leave to rest until it is time to take your dough out of the refrigerator.
Drain the raisins from excess water and squeeze them well. Then, incorporate your soft raisins into the dough and knead it briefly. With the help of a teaspoon, take small portions of the dough and work them in your hands to obtain small balls. Arrange them on a baking tray lined with parchment paper and lightly tap them with your fingers. Bring the pan in the preheated oven at 350°F and let it bake for about 15 minutes or at least until your biscuits are golden brown.