These Gluten free chocolate coconut muffin with cream cheese frosting are moist and decadent. They are a crowd pleaser! So easy to get together.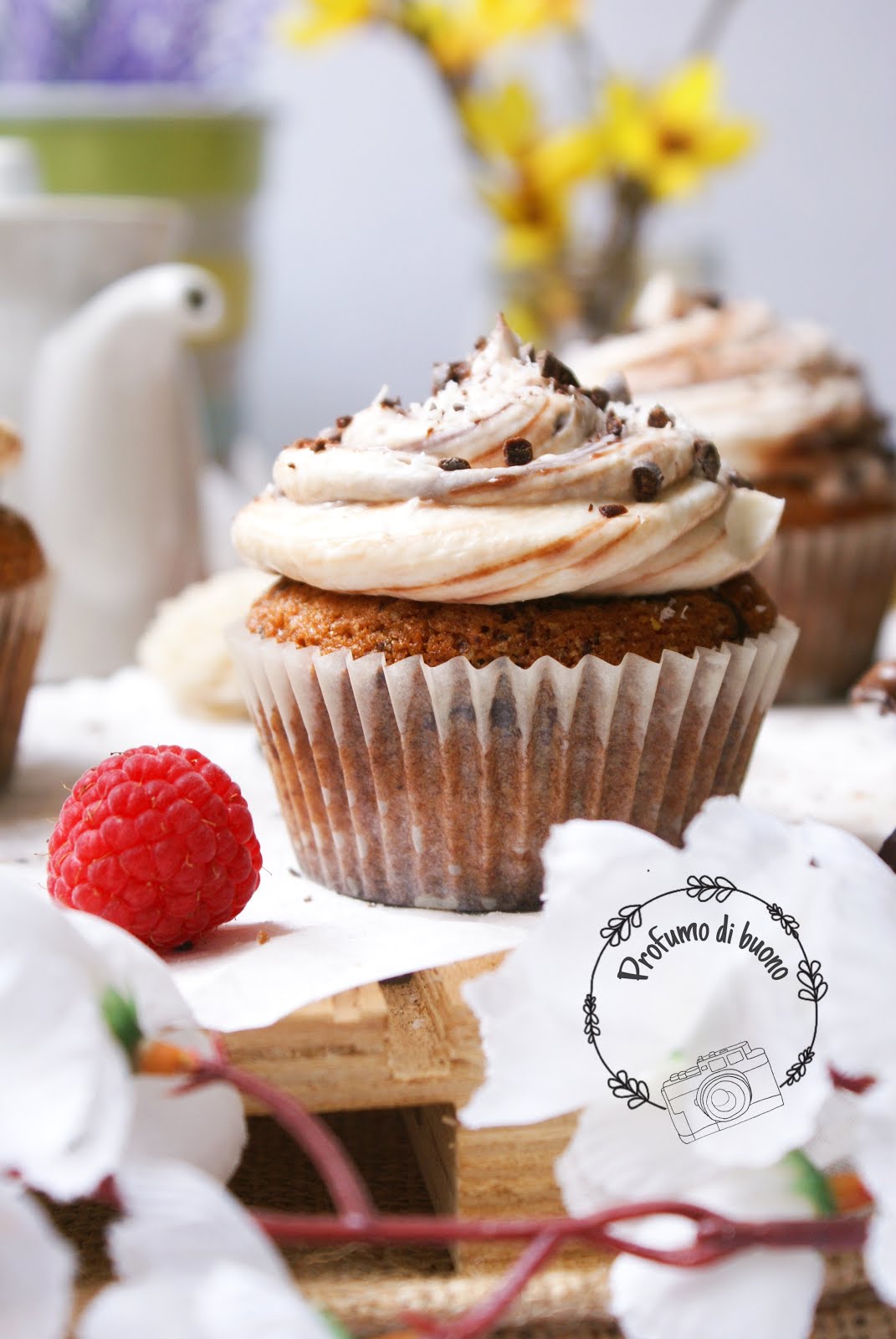 These incredibly delicious sweet treats smell of coconut, hazelnuts and chocolate, in a wonderflu combination of flavors as exotic as familiar. A moist, decadent, delicious muffin full of dark chocolate bits is topped with a delicate and velvety cream, swirled with a generous spoonful of the world's most lpopular chocolate hazelnut spread. Don't you have your mouth watering?
You will need:
Per the cupcale (thank you Bubacadabra for the inspiration)
1 egg
70g of sugar
70g of gluten free all purpose flour
80

g of coconut flour

8

g of bakinf powder

A tsp of vanilla extract
20ml of vegetable oil
50ml of milk
50

g of chopped dark chocolate
Whisk the eggs with the sugar and the vanilla extract until the mixture is frothy and pale. Also add the oil, then incorporate the sifted flours and the baking powder, alternating with the milk.
Transfer the mixture into a muffin pan lined with paper cups and bake in a preheated oven at 180°C for about 15/20 minutes. Let it cool completely.
Let's make the frosting for our gluten free chocolate coconut muffin with cream cheese frosting
50

g of whipping cream

125g of cream cheese

A tbsp of icing sugar
Whip the cream, very cold from the fridge, and set aside.
Cream together the cream cheese with the sugar until you get a smooth cream, then add the whipped cream and refrigerate until you are ready to decorate your muffins.
Let's decorate

!

With a spatula, take a generous portion of hazelnut spread and spread it on the two edges inside of your pastry bag.

Transfer the frosting into the pastri bah and squeeze until the cream that comes out appears to be marbled.

Decorate your cakes with the cream cheese frosting and then top them as you prefer: I added coconut flakes and coarsely grated chocolate.