This Gluten free buckwheat sandwich bread is soft, tasty and delicious! Perfect for sandwiches or toast to put in al lunch box for school.
This gluten free buckwheat sandwich bread is, for me, the ideal way to have breakfast, with a layer of butter and one of jam and a cup of steaming tea. But its thick, soft and compact slices are also perfect for making sandwiches and toasts, or to go with your favorite dishes.
You will need: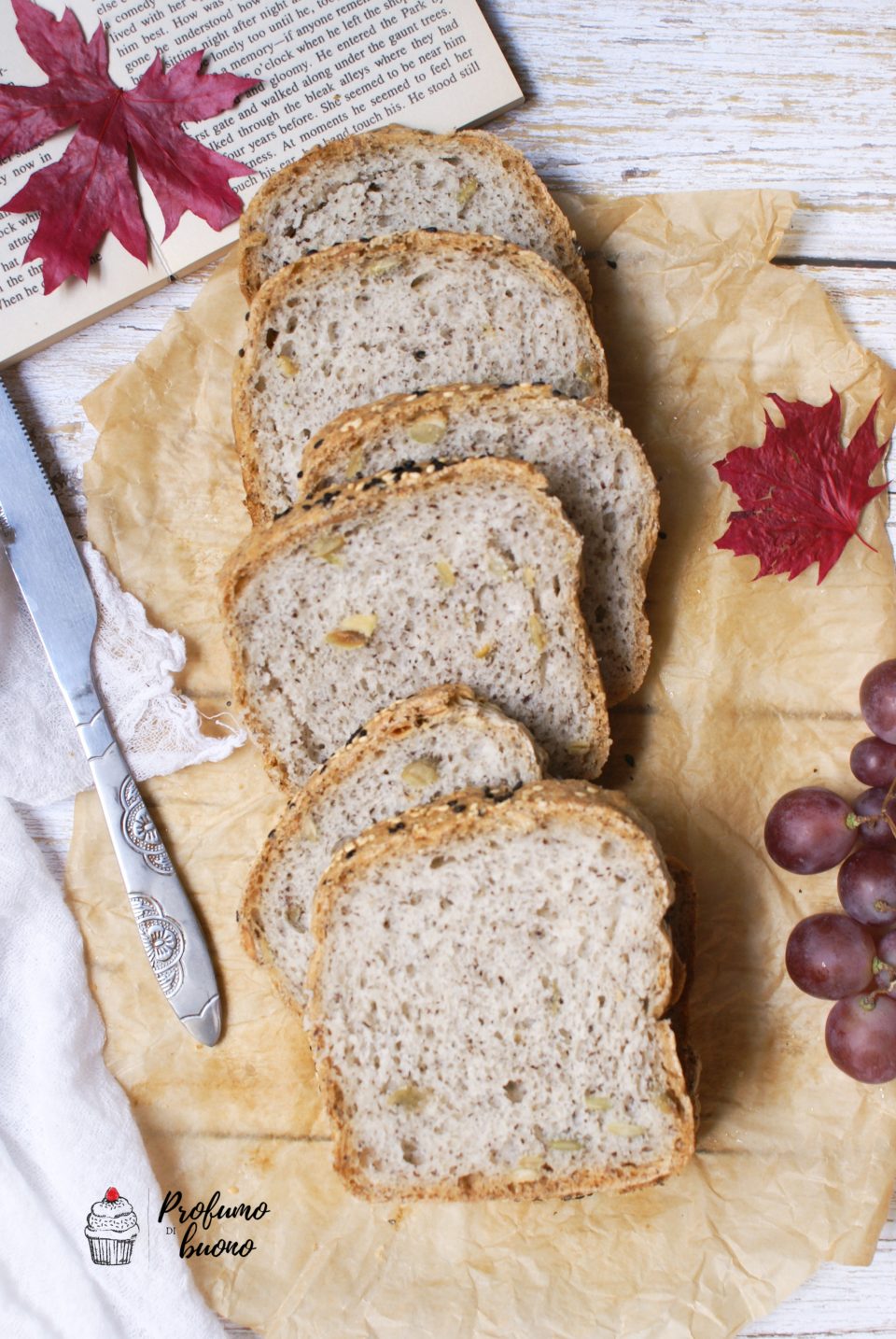 150g of gluten free Schar's bread mix
120g of gluten free Schar's mix it Universal
30g of buckwheat flour
300ml of water
2 tbsp of water
4g of dried yeast
30g of pumpkin seeds
A tsp of salt
A handful of sesame seeds
Mix the flour and dried yeast, then pour the flours into a mixing bowl. Pour the water and knead until all the lumps are removed, before adding the oil and salt. Also add the pumpkin seeds and continue stirring to mix the dough. Let it rise a couple of hours at room temperature covered with a clean cloth.
Transfer the dough to a working surface lightly sprinkled with rice flour. Knead it gently, then separate it into three equal parts. Work each part in your dampened hands to form a ball. It won't be very simple, because the dough is soft and sticky. If you want, you can skip this step and just transfer the dough, as it is, in the pan.
Line a poundcake tin with parchment paper and transfer the dough (portioned or not). Cover it with a cloth and let it rest for another half hour while bringing the oven to 200 ° C.
When the oven is hot, moisten the surface of the bread with water and distribute the sesame seeds, pressing gently to make them stick. Then brush with an emulsion of water and oil and bake for about 35/40 minutes or until the inside is dry (check with a toothpick) and the surface is well browned. Wait until it is completely cold before cutting it.