This post is also available in:

Italiano (Italian)
These gluten free fig cookies are tasty and fragrant biscuits filled with delicious fig jam, also ideal as a Christmas gift idea!
When december is almost here, I like to make handmade Christimas gifts for friends and family. I find them to be more personal and more original than, say, a scarf of a pair of gloves. I'm not that artsty you know. So, the only thing I can actually make with my own hands is some kind of homemade desserts. Yes, gluten free for all! According to them, my friends and relatives who receive the bags of my sweets do not miss gluten at all.
These gluten free fig cookies have all the Christimas scents and aroma to them. Fairly crumbly, creamy and simply delicious next to a cup of coffee or black tea.
You will need:
150g of rice flour
70g of potato starch
30gof cornmeal
100g of butter
1 egg
80g of sugar
A pinch of xanthan gum
Half a tsp og baking powder
The zest of one lemon
Fig jam as needed
Cream together the butter and the sugar, then add the flours mixed with the xanthan gum, the baking powder and the lemon zest. Add the lightly beaten egg and knead until the mixture is smooth. Wrap it in cling film and let it rest in the refrigerator for at least half an hour.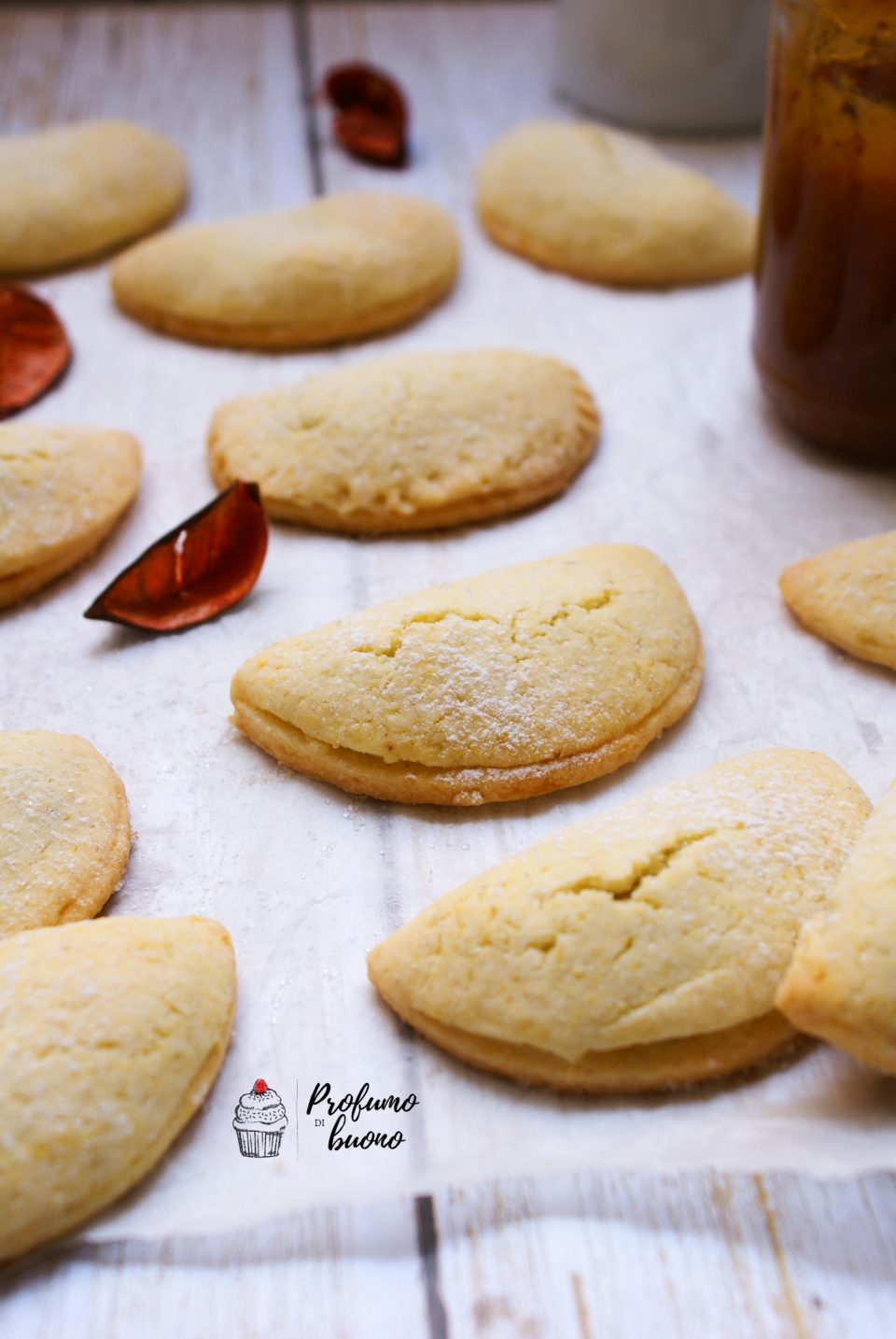 Let's bake out gluten free fig cookies!
Flour the work surface with a sprinkling of rice flour. Do the same with your rolling pin, then roll out the dough, not too thin. Cut out as many discs as you can with a pastry cutter. Place a teaspoon of jam in the center of each cookie.
Brush the edges of each disc with a little water, then gently close the cookie on itself. To prevent it from breaking, it is essential that the worktop is properly floured. To check that the dough has not stick to the table, use a spatula and gently slide under each disc to remove it from the surface.
Place the cookieson a baking tray lined with parchment paper and brush the surface again with a little water. Distribute a little brown sugar and bake at 160°C for about 15 minutes or until golden brown.
If you do not feel like making other filled biscuits, you can use the remaining scraps of dough to bake simple biscuits with the shape you prefer.