This post is also available in:

Italiano (Italian)
These nutella cookies are so easy to bake! Everybody will love their crunchy texture and the creamy filling. They are a win!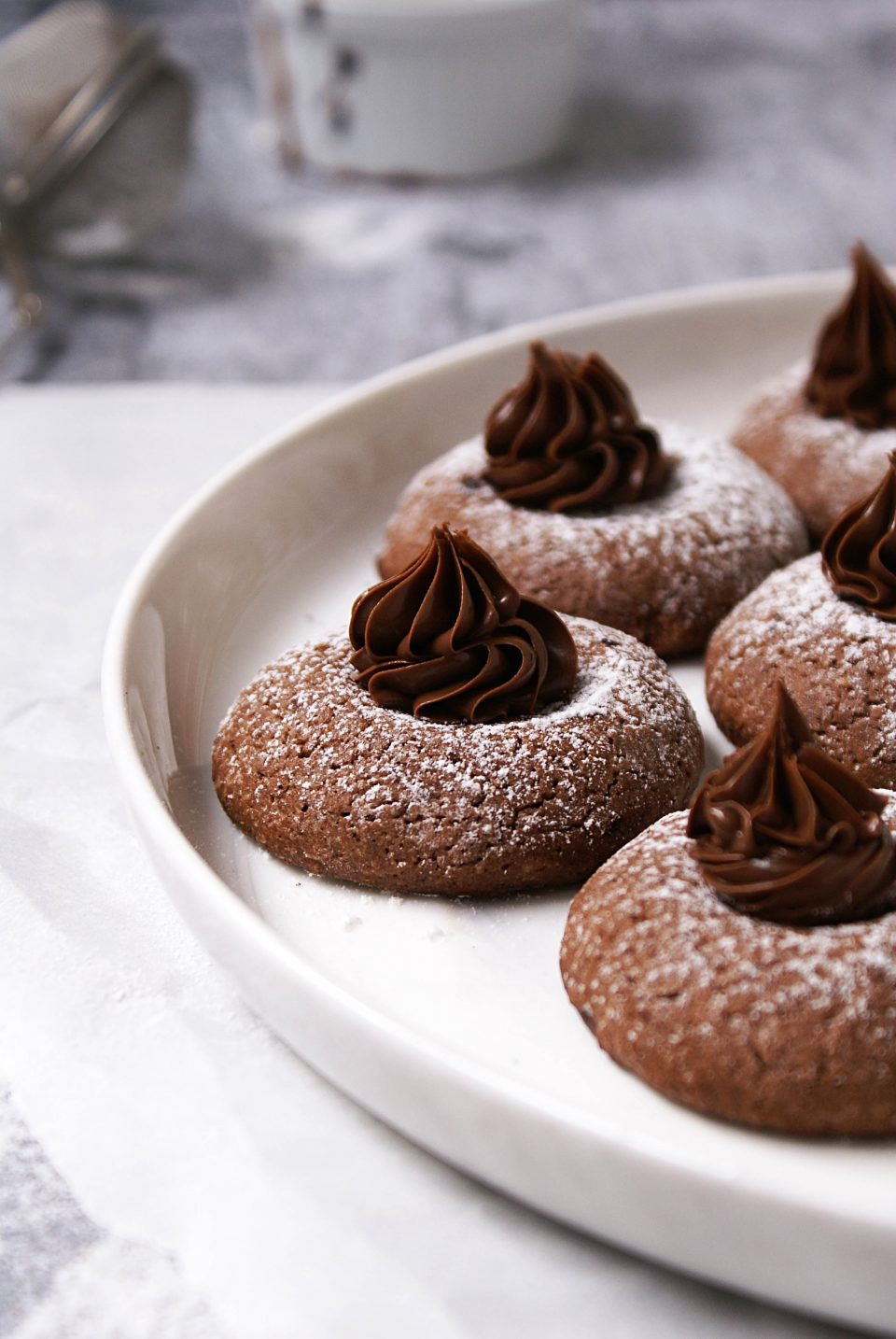 Unexpected guests announced at the last minute? Or maybe you just get that irresistible craving for a sweet treat very little to spend in the kitchen? Don't panic! Today I want to share with you the recipe for these delicious cookies with Nutella, like, the most famous and delicious chocolate hazelnut spread in the wntire world. These cookies are crunchy on the outside and incredibly creamy on the inside! A real jtreat for the palate, they are ready to serve in half an hour with no electric mixer required. A bowl and a hand whisk are enough. Are you ready?
You will need:
1 egg
80g of sugar
30g ofvegetable oil
125g of flour
15g of cocoa powder
Half a tsp of baking powder
A tsp of vanilla extract

A couple tbsp of Nutella or chocolate-hazelnut spread of choice
In a bowl, lightly beat the egg, sugar and vegetable oil until you get a slightly frothy mixture. Add the well-sifted flour, baking powder, cocoa and vanilla. For the gluten-free version I used Schar's universal flour blend. If you want, you can switch it with your own favourite gluten free flour blend, but remember that it could affect the consistency of the batter. So, add the flour a little at a time and keep an eye on your dough. In fact, it must be soft, slightly sticky, but still workable between the palms of your hands.
Rub your palms with a little bit of vegetable oil and take small balls of dough. Place each ball on a pan lined with parchment paper, making sure to leave a small distance between the cookies. With the end of a ladle, also slightly greased, go and create a little cavity in the center of each cookie. It must be deep enough, because the cookies will rise a little bit in the oven, but not too much to pierce your cookies. Bring the pan in a preheated oven at 350°F for about 10 minutes, then take them out of the oven and let them cool completely.
In the meantime, transfer your chocolate spread into a piping bag and put it in the refrigerator: then, it will be easier to decorate your cookies!
When the cookies have cooled down completly, decorate them first with a dusting of icing sugar, covering the hole and center with some parchment paper. Then, place some chocolate spread in the center of each cookie. That's it: your Nutella cookies are ready to be enjoyed! Be careful: they are addictive!