This post is also available in:

Italiano (Italian)
They are soft, tasty and filled with delicious mozzarella cheese. These gluten free panzerotti are absolutely scrumptious!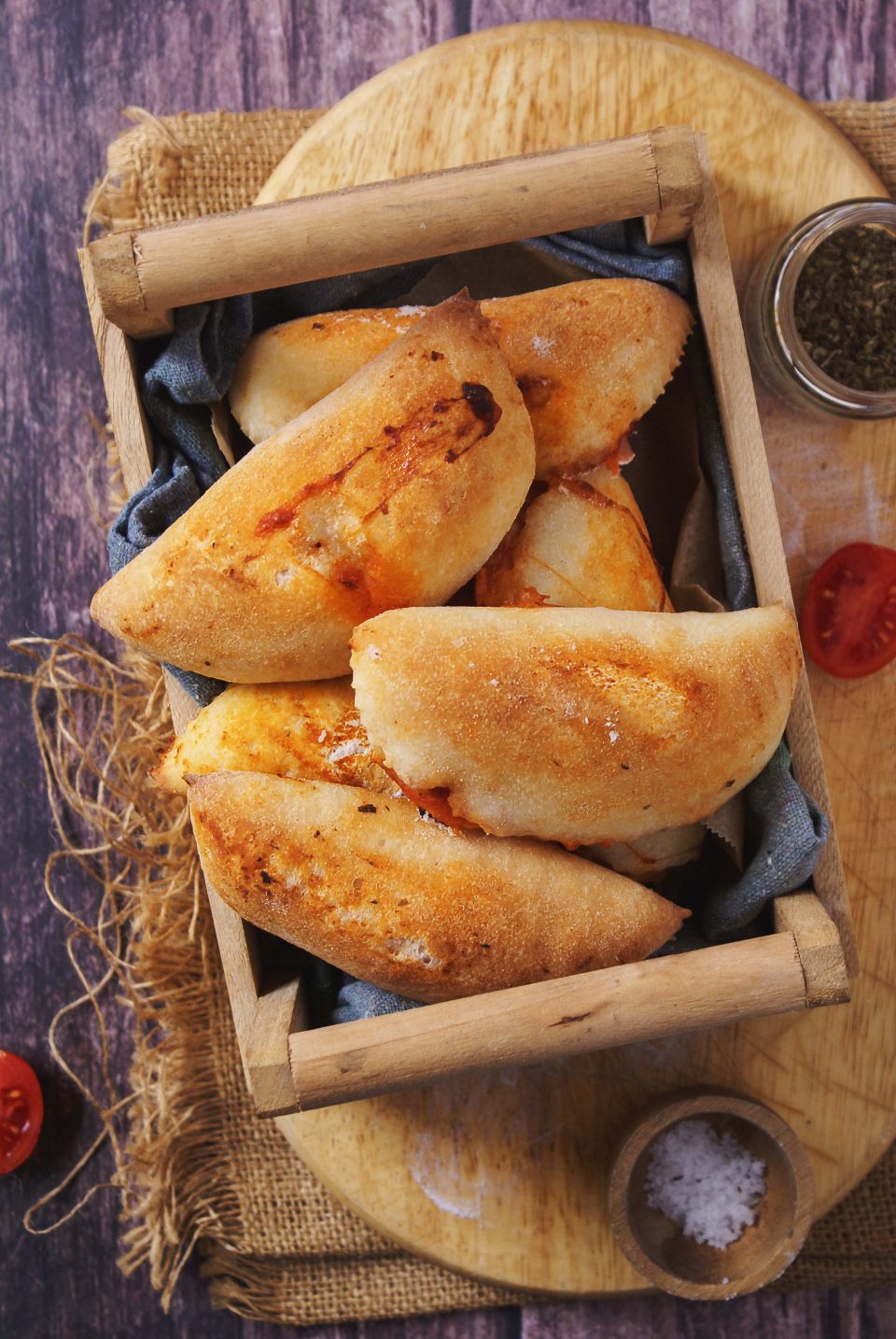 Most of you may already know that I am from Italy. More precisely, I'm from Puglia which is in the south of Italy. And in Puglia the "panzerotto" is a kind of religion. In fact, I am sure that biting a steaming hot panzerotto by the sea is probably one of the purest joys of life.
It is sometimes difficult for us with celiac disease. I mean, enjoying the luxury of a panzerotto by the sea. But we must not give up, because with a little hard work and patience we too can overcome these small but annoying obstacles.
For example, you could bake these gluten free panzerotti at home, surfing the internet for one of those apps that reproduce the sounds of nature and close your eyes while sinking your teeth into the soft texture of the dough. Can't you smell the sea?
You will need:
500g of gluten free Schar's bread flour
440ml of water
9g of fresh yeast
20g of olive oil
A tsp of salt
Half a tsp of sugar
First start by making the dough. Dissolve the yeast in a part of the water together with the sugar. Then, start kneading the flour, yeast mixture and remaining water.
For kneading it is ideal to use a stand mixer. If, on the other hand, you prefer to knead by hand, then I suggest you get your hands wet and run to wash them every time you feel the dough a little sticky. Remember: the more you allow the dough to accumulate on your fingers, the harder it will be to knead it!
Also add the oil and salt. At this point your dough is ready for resting and double in size. Grease a large bowl with olive oil and transfer the dough with the help of a spatula. Then, grease a sheet of cling film and cover the bowl leaving the greasy part facing the dough. Let it rise for a couple of hours, or at least until it is well doubled.
Let's make our gluten free panzerotti!
When the leavening time is over, take the bowl back with your dough. See how puffy it is? Now we are ready to make our panzerotti.
With a greased spatula, divide the dough into small portions. It may be useful to weigh the portions of dough to ensure that the baking will be uniform for each of your gluten free panzerotti. Place the portions on a well-floured surface with rice flour, then cover with a clean cloth and leave to rest for about half an hour.
Now bring the oven to 390 °F and start working on each portion of the dough. Gently press with your fingers to deflate the ball and form a rather thin circle. Place your filling in the center. I chose a marinara tomato sauce (to prepare it you can follow the recipe you can find by clicking here) and cubed mozzarella cheese.
With the help of a spatula, close the panzerotto on itself and seal the edges well. If you want, you can also help with a cutter wheel. One by one, place the gluten-free panzerotti on a baking tray lined with parchment paper.
When you have completely used up the dough, "dirty" the surface of the panzerotti with a little tomato sauce and pour a little oil on the surface. Bake them and let them cook for about 15/20 minutes or until golden brown. Enjoy them hot, with a nice glass of ice cold beer. But be careful not to burn yourself!