This post is also available in:

Italiano (Italian)
They are fragrant and tasty. These gluten free pizzette are perfect for a delicious snacks!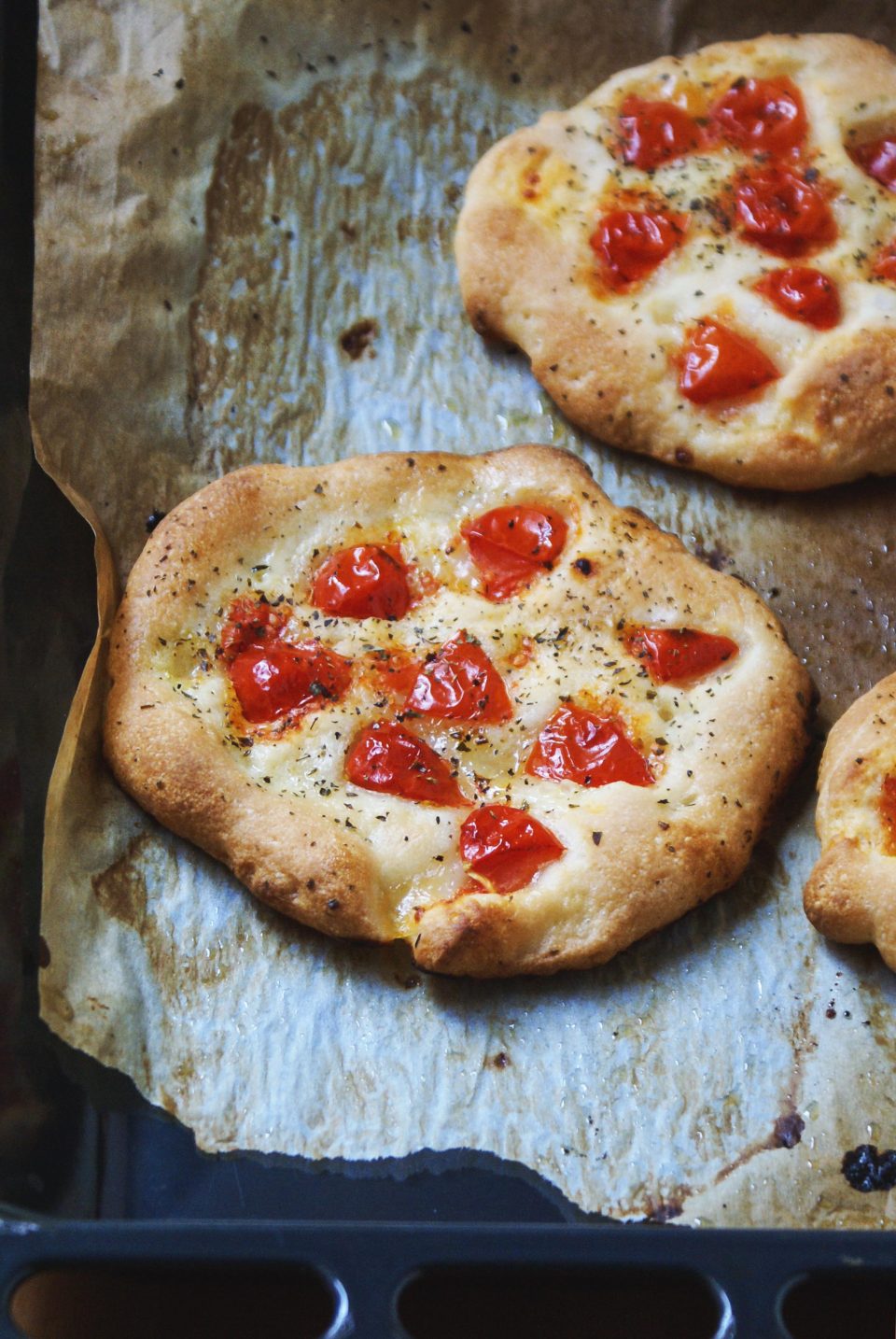 Don't tell me it didn't happen to you too. At least once, since you discovered that you are celiac, you have waked by the bakery shop windows. And you stopped for a second to smell that.
"Pizzetta" literally means "little pizza". These cuties are often sell in bakery shops, here in Italy, and they are a must of every little child for school snack. Finally I can taste one of those "pizzette" in a gluten free version!
You will need (for five pizzette)
300g of gluten free bread flour mix (I used Nutrifree brand)
240ml of water
9g of fresh yeast
A tsp of salt

20g of olive oil

Half a

tsp of sugar

Tomatoes, oregano and coarse salt
First, dissolve the yeast in the water with the sugar. Then pour the water into the flour and start kneading until liquid is absorbed. According to the flour blend you are using, you may need a little bit more or less flour. At this point you can also add the oil and salt. Continue to knead until you get a smooth dough, not too hard and slightly sticky. Transfer it to a lightly greased bowl and cover it with a clean towel. Let the dough rise for a couple of hours, or at least until doubled.
Take small balls of dough, about 100g each. Trasfer them on a baking pan lined with parchment paper and lightly greased. Dip your fingers in a bowl full of water and spread the gluten-free pizzas starting from the center, very gently, until you get rather thin disks. Cover with a tea towel and let it rest for another half hour. In the meantime bring the oven to 390°F.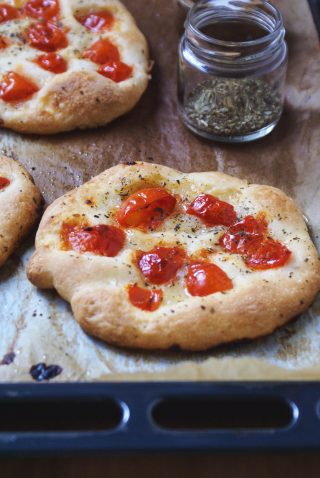 When the oven reaches temperature you are ready to season your gluten free pizzette. Distribute the cherry tomatoes cut into wedges, sprinkle some dried oregano and some grains of coarse salt. Then, pour olive oil on the surface. Bake for about 15/20 minutes, or at least until the pizzas are golden brown on the surface.